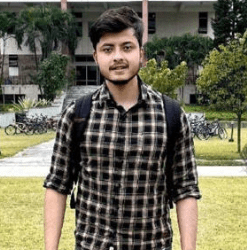 Allow us to introduce Rohit Negi, an IIT-graduate and the son of a farmer, who has achieved remarkable success by securing a lucrative salary package at Uber. His monthly earnings are truly impressive.
Success is the fruitful outcome of hard work and wholehearted dedication. Many students strive tirelessly in large corporations and international businesses to secure their dream positions. For one MTech student from IIT Guwahati, the ambitious aspiration of an eight-figure starting salary has become a reality.

Rohit Negi, hailing from Kotdwar in Uttarakhand and the son of a small farmer, has been offered a staggering package of Rs 2.05 crore by the global company Uber.

So, who is Rohit Negi?

Rohit, a software engineer from Kotdwar, Uttarakhand, was a postgraduate student at IIT when he received the job offer from Uber. His initial salary will amount to approximately Rs 96 lakh, with a total cost to the company of Rs 2.05 crore.

Reflecting on his journey, Rohit shared that he comes from a lower-middle-class family with monthly expenses of less than Rs 10,000. His mother is a homemaker, his father works as a farmer, and he also has a sister who is a nurse. Receiving a package worth Rs 2.05 crore is an incredible feeling for his family.

Rohit's inspiring story serves as a testament to the potential for individuals to transcend their circumstances through hard work and dedication.
For Rohit, reaching his desired salary package was not an easy journey. He wasn't the most studious student in his class, and his grades during high school and college were average. Even after graduating, he faced difficulties in finding employment. Rohit mentions that only WIPRO used to recruit students from his college with a package of Rs 3.5 lakh. "There were many students at the college, but the opportunities were limited," Rohit stated.

However, Rohit's fortunes changed when he dedicated himself to hard work and determination. He performed well in the Graduate Aptitude Test in Engineering (GATE), which helped him secure admission to IIT Guwahati. Among one lakh students who took the GATE exam in 2020, Rohit achieved an impressive rank of 202.

According to media reports, this achievement played a significant role in his admission to the MTech program at IIT Guwahati. Rohit has been working as a software engineer at Uber for the past 11 months, earning a remarkable salary package of Rs 2 crore. In addition to his professional endeavors, he also runs a YouTube channel where he provides guidance to students on GATE preparation and placements.